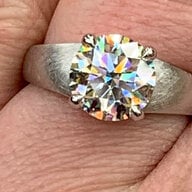 Joined

Feb 13, 2003
Messages

2,917
This is the topic I want to answer:
https://www.pricescope.com/community/threads/fear-and-loyalty-among-diamond-buyers.103513/
Deborah,
First of all, thank you for your nice comments.
You are true, EightStars are really lovely.
So are
ACA
diamonds too.
If I had the money, I would change every day, the same way I like to use different perfumes: EightStars diamonds with painted crowns,
ACA
diamonds with slightly painted crowns and
ACA
diamonds Classic Line unpainted. All are gorgeous.
I think it''s difficult to find perfect diamonds without a brand, because when a cutter did such a good job, he knows where to sell the stone and it won''t stay long on the market, but that is just my guess.
I''m still waiting for a cutter who sells diamonds with slightly shallow crowns (33.5-34) but longer star facets (steeper upper girdles). Then I''ll probably upgrade.