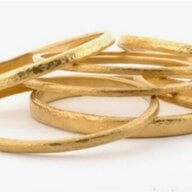 Joined

Jan 26, 2003
Messages

22,099
The recent threads on the departure of Brian and Lesley from
Whiteflash
and the fear that I have seen that engender; the discussion of whom one could
really
trust to judge a great diamond at
Whiteflash
(Brian? John Pollard?) has set me to thinking.
I have been around on diamond fora for many years and I remember when Eightstar was the only diamond that was touted as the most perfect diamond because it was cut to its own specifications in its own facilities. (At that point, I was a sworn enemy of Eightstar!)
Over the years I have come to realize how much a consumer comes to rely on the jewelers with whom he works, on their judgement. Although I am supposedly an educated consumer, I could probably be
sold
cut glass and could definitely be sold a diamond simulant except for the fact that I demand a GIA or AGS cert (and although another jeweler would eventually discover this since I get around a bit).
At any rate, I started thinking about the diamond I think I would most trust
from the cutter
...and the answer was Eightstar. I decided to do a search on this and see what had been posted in recent years on Eightstar. (I do not usually frequent Rocky Talky.)
I was absolutely
delighted
to see that Stephan had gone to Eightstar for a recut of his diamond! I am quite late in offering my congratulations, but Stephan, it is
amazing
!!! It just couldn't be lovelier! I am attaching a link to the first thread about the ring. Everyone should know that within that thread there is a link to another thread with even more amazing pictures, however!
https://www.pricescope.com/community/threads/diamond-liposuction.92710/page-2
I would love to have an Eightstar! My only problem is that I would also like to have a larger diamond than one I have now, too!
That is not the point of this thread, however. The point of this thread is that consumers become very dependent on their vendors and start to think that only their jewelers can be relied on. It is really magical thinking. Except for Eightstar (which may not have a product that is demonstrably better than anyone else's at all), everyone buys his diamonds from the same heap! Why would one person be so much better able to choose diamonds than another person? It is nonsense. Nonsense and marketing.
Deborah