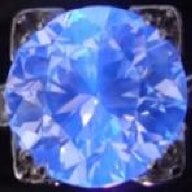 Joined

Apr 26, 2007
Messages

8,087
Thinking ahead a little: I know when I get my OEC, I'll want to at the very least have the bruted girdle faceted. While I'm still going back and forth on whether the original setting will be the "forever" setting, I also want to, at the very least, have it reshanked, polished, and possibly milgrained.
So the question is ... where?
The two obvious choices, as I think of them, are
Brian Gavin
Diamonds and Single Stone. The plus for
BGD
is that I could also get a proper cut analysis, and possibly find out if there was anything cool that could be done to further improve light performance, like Gypsy did with her pendant stone: the minus is, well - don't shoot me! - I haven't liked what I've seen of their milgrain, and I don't know if I've heard of their doing any restoration work. With Single Stone, the plus is that they do awesome restoration work and can undoubtedly do a cool recut like they did for Kelpie, but there's none of the tech stuff.
And I have
no
idea what either of them charges, either ....
So, fellow PS'rs: what would you do?
BGD
, Single Stone, or some as-yet-unnamed cutter? (and possibly even in NYC? is DiaGem in NYC? does he accept private commisions?) Looking forward to y'all's advice ....