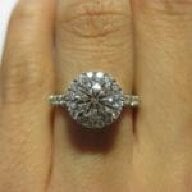 Joined

May 17, 2008
Messages

220
Do any of you ladies participate in the ring decision making process? If so, how much would you say is an appropriate amount of information to feed your bf?
I''m obviously hooked on PS and is doing some crazy research but I''m hesitant to tell my bf, worried that he''ll think I''m drowning him with info or accidentally put too much pressure on him! We talked about it and he said he is totally interested and likes to hear about it, but if I don''t want to tell him he also has no problem just taking care of it himself.
I don''t know, where is the fine line of too much? Is it better to just keep it in until he probes?