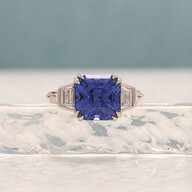 Joined

Feb 21, 2010
Messages

539
We all know that carat is an expression of weight but I thought I would share this as a point of reference for those first time shoppers in the forum.
The two diamonds this picture are both from Alex Parks. The OMC is 1.96 carats the double rose cut is 1.06 carats.
Since the rose cut doesn't have a pavilion nearly all of its weight is viewable and creates huge amounts of finger coverage.
The OMC has that classic tall, puffy-top look that so many of us adore but that does mean that a good deal of the weight isn't visible as spread.
For those buyers who are looking for maximum finger coverage, the power of the fancy cut can't be denied.