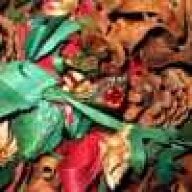 Joined

Jan 11, 2006
Messages

2,876
SomethingShiny? ChargerGrrl? I know you two recently remodeled bathrooms. Anyone else care to help with my own ugly bathroom remodel?
We just bought a house that we completely love. It''s a 1929 California Spanish style bungalow, and most of the original features are intact, including oak floors, casement windows, a milk delivery door, and even a real built-in icebox. The bathroom, too, is mostly original, but NOT in a good way. See the attached montage. Keep in mind, that is before a THOROUGH cleaning and wall-scrubbing. Trust me, the rest of the house is worth putting up with the bathroom. We can''t undertake a full remodel right now so I''d love some thoughts on improving its appearance until we can.
The walls are actually white, not cigarette smoke yellow like they appear. We will most likely leave the walls alone, except to paint them. The bottom three feet is molded to look like subway tile, and the top is a textured plaster. I''ll probably keep the bottom half white, but paint the plaster above the border. The problem is what color to use-which would not be an issue if it weren''t for the floor.
We think the floor tiles date to the building of the house. They may actually be stone tiles-which is cool. They are a most unfortunate salmon pink color-which is not cool. If we leave the tile as is, there are two colors of paint (tawny port and sweetheart) shown in the montage that MAY go with the tile. What do you think of them? Does anyone see a way to paint the bathroom so it doesn''t look like an explosion in a pepto-bismol plant? And then there is the issue of the black tile border around everything. I kind of like the look, but again, am not sure which way to go in terms of paint colors.
Alternatively, I like the idea tiling over with vintage looking tile, in a simple black and white pattern. Can we tile over what is there now?
TIA!