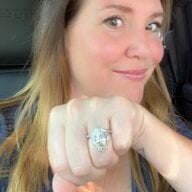 Joined

Oct 14, 2018
Messages

704
Do you recall the moment you fell in love with old cuts? I'd love to hear about it.
For me it was a few years ago, in 2018. I found PS as I was looking to upgrade my e-ring. I saw modern cuts and old cuts galore. As I was unfamiliar with old cuts in person, I opted to go with something more familiar… a round brilliant (
ACA
in fact). I placed the order for one and anxiously waited on its arrival.
But fate stepped in! My husband and I took a trip down to Tampa to see family and there is a store in one of the malls that specializes in vintage and estate pieces. My husband, being the sweetheart he is, asked if I wanted to go. Ummm… yeah, I did! So in we went. There were cases and cases of beautiful rings. In one case was "her". As soon as I saw her, I knew.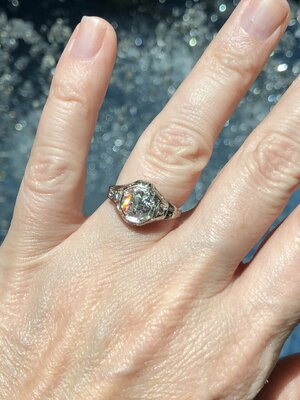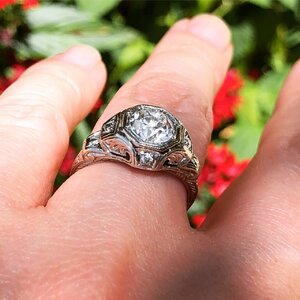 My husband knew I was beyond smitten! So we bought her… my Lucy. But I was still waiting for my
ACA
from
WF
to arrive. What a dilemma. What's a girl to do? Well, that was a bit of an easy one to solve after all.
A few days later my
ACA
arrived. I put her on and marveled at her beauty. She truly did sparkle like crazy! I understand why we recommend ACAs on here as much as we do, because they are phenomenal without a doubt. But as I gazed at my
ACA
, I realized something was missing.
Lucy (an OEC) had those amazing flashes of confetti, so broad and bold, while the
ACA
gave off millions of glittery splitters. And in that moment, I knew my heart belonged to old cuts. And so back to
WF
my
ACA
went, and I have never looked back.