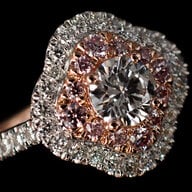 Joined

Mar 31, 2009
Messages

770
Sorry - this is a bit of a follow on post. I have been looking at the visual difference between a 5.97 x 6.00mm K 1.03 cushion to 6.30 x 6.22mm J 1.14 cushion (approx 5%). I thought I had missed the boat on upgrading the stone while my setting is in for repair, however the head is now needing to be remade anyhow so if I want to switch the stone, I can. Bearing in mind, this is a custom setting so I don't want to waste the value of that in a future upgrade - at least not for a long time. If I had my chance again I would go the simplest setting and largest diamond, but I am already invested in both.

Put simply - Would you pay $1000 (plus 10% tax!!) and this will have to last a long time!

Many thanks ... very keen for your advice.