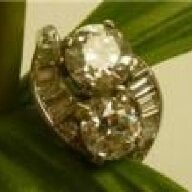 Joined

Jul 2, 2010
Messages

1,036
Several years ago for my 45th birthday I took all the random broken unloved diamond jewelry in my box to a local jewelry designer and after working for several weeks with the designer came up with this. Now I want you to know that even with all the sketches and cads back and forth I never noticed 2 things, #1 the sapphires were included, I forgot one of the pieces had 2 sapphires and #2 the piece has an uncanny look of Mickey Mouse. (Now you should know I am a Disney nut, I actually have a Mickey icon wedding band I wear frequently and a Mickey Mouse ring I just had reset with a brazilian garnet that I wear on my middle finger all the time.) However I really don't think I want my statement someday heirloom piece of jewelry to look like a hidden Mickey!!
So I reallllly love Gypsy's odds and ends necklace and with my current fixation with milgrain bezels I am re thinking this piece.
Now I don't have a cool chain hanging out in the jewlry box to use, but I do have 5-6 smaller .20-.30 diamonds to add. Also if you look closely on th side you can see the only thing left from my original engagment ring the baguette.
So pricescopers I bow to your vast knowlege and love of all things bling and ahelp a girl out. Ideas? Comments? drawings??