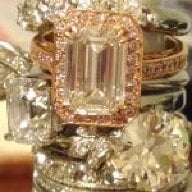 Joined

Jan 8, 2008
Messages

2,362
I bought a .40 Brian Gavin H&A really just because it was a great deal. I found another "matching" stone I'm considering buying. It looks like a respectable match but not graded or ideal. I've bought enough cheap diamonds that I don't feel like I need to rely on certs if the price is right seeing how my dreamy e-ring is un-certed. So say you had an .80 CTW RB pair- What would you do with them if you already had euro cut platinum bezel studs in the exact same size?

Earrings of a different style, like rose gold with 8 prongs? Would that be different enough? I had .70CTW WF white gold 8 prongs and I sold them only because they were too similar to my OECS (back when they were in martinis). I don't do dangles anymore, it took me 15 years to notice but that highschooler at the claire's in the mall pierced my ears cockeyed and now it drives me nuts. Any idea what 8 prongs cost from someone like Daniel M? My ears only tolerate platinum or gold even though I can wear 10k just fine.

Would you use them in a three stone ring? The only remaining ring project I want to do is a ruby flanked by BIG diamond sides but I need a long time to save for the quality of ruby I want. Should I set in earrings now and dismantle once I can afford a center stone? I probably already have some colored stones I could slap in the empty settings. Downside of a ring is a H&A will certainly outshine the uncerted stone in so close a quarters although the symmetry really does look decent in pics. Seems it might be like having Beyonce as a backup singer. I don't care to spend retail on another H&A because the price would be about triple of what I paid for the one I have.

Suggestions that only include the one H&A are also welcomed. Along that vein, the H&A is already in a tiffany type setting that happens to be my size so I could just wear and enjoy it as an alternative e-ring because I often feel like my 8.57mm euro is too ostentatious or unsafe to wear in Africa but wearing anything else feels like cheating. It's probably stupid but I wear it almost every day even though a part of me would die inside if I was robbed of it. I was parted from it for several months while it got repaired and now I'm treating it like Gollum. I do occasionally wear a sentimental tungsten band in lieu for going to the beach or market.