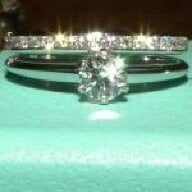 Joined

Dec 22, 2009
Messages

140
Ok I give up! Been thinking about this for over a year, wedding still 7 months away hahaha probably why I'm still going nuts thinking about it totally shouldn't have had such a long engagement!
This is my Tiffany ring my dearest gave me, (.30ct plain band) I like the diamond but find the setting so boring. And I can't decide for the life of me what to do with it, as our financial situation has changed since our engagement, we have a little wedding band/upgrade nest egg that is doing well and I am pretty much going to have the money to upgrade, reset, or buy multiple wedding/eternity bands. I could upgrade (ie by going Tiffany upgrade or starting all over again with a different e-ring) but any upgrade option I would still be limited in size and probably couldn't go higher than a .50ct or .75 ct especially considering I like high colour.
Also, the diamond I currently have is really good quality, D VS2, so now I am spoiled and want a pretty high quality stone. I have F colour earrings and they are lovely though and I believe I can see a big difference between VVS2 of the earrings and the VS2 of the e-ring. I like the higher clarity I think possibly even more than the colour.
I love halos (for resetting option or starting out again option) but I have a funny request, I don't like bands sitting flush! I would prefer my band not to sit flush so you can see the whole wedding band and it's not wasted sitting under a halo.
I could go Blue Nile or Whiteflash or something like that but I'm worried about the quality of the settings (not the diamond) as I've never seen any from anywhere like that.
I'm also loving the platinum, and wanting to stick to the platinum.
If I get eternity bands, I like the Tiffany jazz (any type), Channel set and Shared Prong but I'm worried about the shared prong scratching my e-ring. If I wore it next to my channel set could it wreck the channel set?
So that is pretty much my situation. If you were in my position, what would you do? I am not really that sentimental about the ring and neither is my other half. I would however be pretty fearful of family/friends thinking badly of me for upgrading, but having the wedding set/ring that I want would be worth waiting for them to get over it.