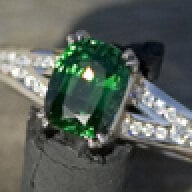 Joined

Aug 3, 2006
Messages

9,613
My wonderful FI has come into a nice sum of money and has decided to give it to me to spend on rocks and jewellery - we are talking around the $10k mark.

I am totally in shock.

He wants me to invest however rather than buy bling for myself. I''ve been doing rather well on buying antique jewellery on ebay over the last year - certainly better than his shares - and he wants to put me to work on it! Any profits get split 3 ways - 1 third back into the pot, 1 third to FI and 1 third into a Pandora bling fund.

I''m going to carry on with the ebay bits, but would like to buy some coloured stones to set and resell. I see a lot of quite nice settings with horrible black-looking sapphires that would be so much nicer with a pretty tourmaline or spinel instead. I''m also going to look into doing a setting course here in London.

So, gemstone wise I''m thinking I should be looking at garnets, tourmalines and spinels and some of the more unusual stones.

What would you choose?