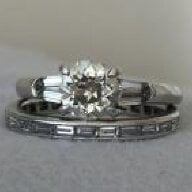 Joined

Mar 26, 2015
Messages

240
After 6 years of marriage, I finally got my rings appraised so I can insure them, but now I'm having second thoughts. We could easily afford to replace both rings if they were lost or damaged (I don't know that I would decide it was worth spending the money if faced with that, but we could definitely afford it).

Is it worth insuring in this scenario? Or just put the funds I would use to pay premiums in a bling fund instead?

What value is your baseline for insuring? Or do you insure everything (or nothing!)?