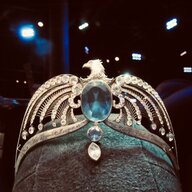 Joined

Nov 26, 2018
Messages

128
Hi everyone,

I have an ivory necklace that was gifted to me when I was a young child and did not know what ivory actually was or how it is obtained.

I don't wear it because I don't feel comfortable about it, but it has sentimental value so I don't want to get rid of it (plus I don't want to encourage anyone else to buy ivory).

It's been sitting in a drawer for over 20 years, and I feel like I should do something about that, but I don't know what. I realise this is all a bit vague! But I thought I'd throw this out there to all you good people and gather your perspectives.

Any suggestions?