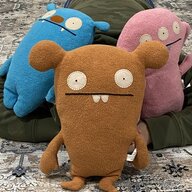 Joined

Oct 24, 2012
Messages

10,316
Dear PSers,
@stracci2000
,
I hope you don't mind me just asking for some input from some of you who may be artistically inclined. I don't have any art background, nor do I have family that has pursued a degree or career in the art field.
I'm not against pursuing a higher degree in art, but I'm just not sure what career options are out there for people with art degrees. I don't see her pursuing a career strictly in art (although I'm not even sure what that means). I am hoping that her experience in art allows her to tap into the creative side which can be used in any field. She enjoys using technology, writing, etc. I wonder what majors are out there that are interdisciplinary that allow her to use her art back ground and another major.
I'll be honest. I don't have any idea of how to nurture an artist. I have been happy to send her to art class, once a week, since she was six, and then she has taken whatever art class she wanted since she started high school. I let her paint or do whatever she wants on her own, but she isn't obsessed with art. Sometimes paints for fun, or whatever...
So if anyone has any suggestions for stuff I can do to encourage her, develop her skills, expose her to different ways her creative background can be used in the future, or even other good art classes to take, I'm open to any suggestions.
Thanks so much.
LLJ