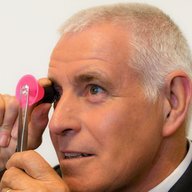 Joined

Aug 15, 2000
Messages

18,054
I thought I would post the results of a typical study that may answer some of the questions that are frequently asked.One of the studies I have done is to take three diamonds that score 1.3 1.7 and 3.7 and show them to people in a number of lighting environments.
In office lighting almost all people go for the 1.3, but in the store or a lighting environment where fire can be seen most (wow) people choose the (smaller diameter) firey stone but some go for the much bigger spread 3.7.
Now who is right? Of course anyone who buys one of the diamonds.
The point to this is that most diamond analysis is done in only one lighting environment, and that is wrong.
Another smaller part of the system is to take account of how certain proportioned stones perform when they are dirty, and while this has not been done exhastively - you would find the 3.7 stone has a dead ring inside the table when it is dirty.
.50 H SI2 fair symm 1.7FIC
.50 H VS2 Near H&A 3.7(BIC if it wasnt for the 64% table)
.50 H SI2 Fair 1.3BIC
Rgards Garry Holloway
PS there is often discussion about how a diamond that is second hand wolud look.
I have seen 100 year old diamonds that would look the same as they did 100 years ago.
I cant tell a diamonds age unless there is a clue in the cutting style.