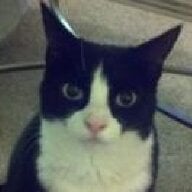 Joined

Aug 8, 2005
Messages

40,225
So I've asked
GOG
to source a pear for me for my Odds and Ends necklace. I was going to swap out my 5mm OEC for the pear and then search for a matching OEC to make studs... but I was at a jewelry store today and I tried on this amazing sapphire five stone and I haven't been excited about the pear but that sapphire today gave me a renewed craving!
Sapphire is my birthstone and I've been thinking of getting a classic three stone sapphire for a while now... and I was originally thinking that my
GOG
gift certificate could go toward some sidestones... and then I'd work on the sapphire when I could afford it. And now I'm back to that. I would be my only colored stone ring, I am generally a diamond girl (boo hiss!) but I love sapphires and want one really lovely piece with my birthstone in it eventually.
Most sapphires I see these days are ovals or cushions. So... I am thinking that will be the most likely shape I will get.
The ring today was REALLY expensive (25K) but lord it was gorgeous.
So... I would set the center stone N/W... what do you think for sides. I'd honestly love Cadillac cuts, but I think they are out of budget (up to 800, but closer to 600 would be more comfortable).
I have to source through
GOG
... but I am curious what you guys think would be best. I am kinda facinated by the thought of a five stone with two marquise on either side of the sapphire as well.
So... I guess I'm not married to the three stone idea. But I want something without a halo or pave anywhere.
And where should I start looking at sapphires? I don't mind heated (and my budget is in the heated range anyway). I've bought from Simply Sapphires before, and happily, for others... but they don't seem to have a lot of inventory recently.
Thank you guys!