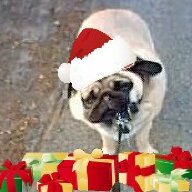 Joined

Oct 25, 2006
Messages

1,789
DH bought me this cute ring for Valentines Day and I received it today. I loved it and thought it was gorgeous. I went about my usual routine for new bling, which includes staring at it, staring at it some more, and then examining it in different lighting.

At first I just admired the sparkles and watched it in the sunlight. So pretty!

But later when I started looking at it from all angles, I noticed that one of the hearts is bent on one side, all the way down to the band. I don''t think it''s supposed to be that way. It also looks like there is a hole where a diamond used to be! I really don''t think I could have bent the ring so quickly, but I am panicking because I don''t know for sure! I don''t remember if it was like that when I got it, but I also didn''t do so much with my hands in the hour I had it!
I am so bummed.
I''ve emailed the vendor and am waiting for a response.
If they won''t fix it for me, what should I do? Is it even fixable.
I can''t believe how quickly I went from being so happy and in love with this ring to devastation.