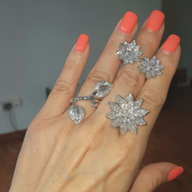 Joined

Oct 5, 2006
Messages

9,927
I have a Q for you ladies, especially those who have had a graduating 5-stone ring made. How do you work out the proportions?

I have a 0.90ct loose diamond which I've been trying to sell on consignment unsuccesfully. I'm planning to take it back and put into a 5-stone ring with a pair of 0.60ct each (1.20ctw approx) stones (currently in a pair of earrings which I seldom wear). I need to purchase another two smaller stones to put into the graduating 5-stone ring, but am unsure which size to get.

So, what size for the new stones? Would 0.44ct each (diameter of approx 4.90mm) be ok? FYI, the 0.90ct stone is approx 6.10-6.17mm. The 0.60ct stones are abt 5.4mm each.