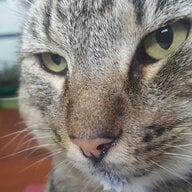 Joined

Apr 30, 2019
Messages

11,549
Thanks! I've been back to playing bass and cutting Opals again for a few months now, Opals aren't an issue but I'm still working through a few issues with the bass. My finger still doesn't react the way it used to and some very fast parts I used to play are now ranging from difficult to impossible.

The surgeon was an absolute wizard; he got it all put back together despite being as mangled as it was and it was very quick procedure as well, 25-30 minutes to get it all done. I got some high fives from the nurse staff too for getting it done under a local, apparently this kind of reconstruction is not something they typically do under a local as it's right on the edge of what people can handle while awake. We must be pretty tough here in Australia!
Here in NZ we are big wisses !
I would need to be knocked out for that - but i would probably already fainted
Yesterday Gary went in for catarct surgery and in pre-op they put a line in his hand just in case
i was almost sick
the nurse said they have more trouble with the people supporting the patients than the patients them selves