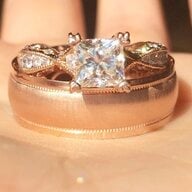 Joined

May 19, 2020
Messages

710
What kind of craft / projects is everyone working on?
I have 2 quilts going, and I just bought several yards of fabric that I have *NO* plans for (sigh). Simply because they were pink and pretty and I couldn't help myself. Then I got my latest Keepsake Quilting catalogue and couldn't help but buy ANOTHER kit that will inevitably end up in the closet for years while I try and finish my current projects.....
You know how it goes
So! What is everyone working on?
Pictures for picture tax