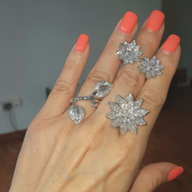 Joined

Oct 5, 2006
Messages

9,847
I recently had my very blingy dangly earrings appraised. I'd initially estimated the total weight to be around 8ct, based on receipts, certs and what the jeweller showed me (they weighed some of the diamonds which were loose on their own scale). I subsequently had one pair of diamonds with a total weight of abt 0.90ct removed, so that should make the whole earrings about 7ct or just a bit under.
The earrings were then appraised with all the diamonds mounted. The appraisal report shows the total weight to be just under 6ct

.
I trust the appraiser/ gemologist 200%. He is *THE* authority to go to in Singapore. There's absolutely no way he'd do anything funny to risk his reputation and hence his livelihood. I also trust the jeweller, well about 99% (there's an extremely slim chance that their benchman might switch some of the diamonds but I doubt that very very much).
So that only leaves two possibilities: 1) the scale at the jeweller is wrong (or the one at the appraiser's is wrong, but again I doubt that); and 2) mounted diamonds are hard to appraise (though the two largest diamonds are certed) and thus there may be a margin of error in estimation.
I don't want to ask the appraiser, in case he might be offended and think that I am accusing him of some wrongdoing.
My Q is how big would that margin of error be? Can it be as much as 1carat or even over?