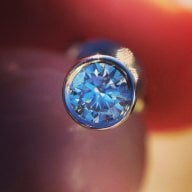 Joined

Jul 7, 2004
Messages

10,763
I have had a lot of ring drama in the past 7 years...a lot was just poorly manufactured work or terrible bench work--sizing problems,etc. Others were where the manufacturer (local guy or national company) just didn't "get" my requests or disagreed, or worst of all, ignored. I know I am NOT alone in that kind of issue especially since I have noticed at least one thread recently where a ring was either remade elsewhere by another maker or sent back to the original maker for a round 2 attempt to make it right.

I am of the mind that if I pay you for something, be it $600 for a basic band/setting or $2500 for a setting or diamond band, or $8000 for a totally paved masterpiece, that it is loupe perfect when I receive it, especially if there was a wait longer than like 3 weeks. I shouldn't see chips or nicks or cracks in any of the melee, crookedness with my naked eye of any stone, prongs should be uniform. My eyes are really good on their own, not even considering a loupe's involvement. I also expect them to know that I WILL loupe it. And I will tell them up-front that I will. I expect that the stones are level, even, the "same" measurements, and all high quality. I expect there to not be serious signs of casting issues on the metal. And I expect you to fix it right away if it's not to those standards. Rush it to the front of the line. Do whatever you have to do so that it's fixed perfectly and back on its way to me or back in my hands in less than a week if not 24 hours later.

Maybe I am unrealistic, but someone paid you for that item and based on the reputation that you've built and the marketing you produce implying that you have amazing quality and workmanship, they expect what you're reputation and marketing told them you provide. You might be ok with lesser quality for your own items, but not everyone else is. Maybe go the extra step and work at a higher magnification than the trade would typically use. Set the new standard for excellence. $600 or $2500 or $8000 is a LOT of money to the vast majority of society. Having the "whatever" attitude, or declining to meet someone's standards--especially if they've shared those standards in advance--is not acceptable. You're in business to serve people who want your product. Give them your best. Or if your best is inferior, find someone better.

So is there anything you wish setting designers/manufacturers, brands, jewelers, whatever, knew? What message you want to share?