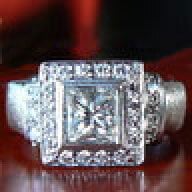 Joined

Dec 9, 2002
Messages

2,224
Hi all, I''ve been here for awhile, struggling with my diamond & ring. Today I found out it may not be what it was appraised at (color & clarity approximately 3 grades lower than as sold---I''ll spare the sob story).
Long story short---I may be in the new market for a new stone this week. My stone goes in for appraisal at an independent Gemological Lab tomorrow. If it comes back with REALLY bad news, its back to my jeweler for a refund.
If that is the case, and after the whole hulabaloo with my princess cut stone (which I was very unhappy with) I am thinking that a classic round might be the best way to go, since the standards & grading guidelines are established & appear to be more consistent.
As far as fancy shapes go, obviously I was drawn to the princess, and I also like the oval.
I want to start doing the homework, and even if I don''t return my diamond & exchange it, I am going to get a pendant next year anyway so this research for a 1 to 1.25 carat stone will not be for naught.
My budget is going to be around 4000 to 5200, depending on whether or not I return my sidestones as well.
Any words of advice, guidelines, etc...please let it flow. I''ve already scoured the PriceScope site and printed half of it.

Sad day for me...in tears by 3pm, glass of Merlot by 10pm.
Cheers
Divergrrl (wanna go diving...get away from this hassle....mmmm underwater...)