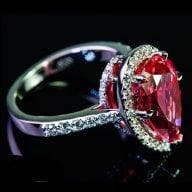 Joined

Apr 22, 2004
Messages

38,285
I was wondering what colour gemstone is best for this specific mounting:
1. 18kt yellow gold
2. I'm not sure what type of setting it is called but it looks kind of like a bezel but is in actuality held in by 8 dot-like prongs
3. The rim around the center stone and dot-prongs are a white metal
I'd love to post the picture but since it is a one of a kind ring, I don't want someone else to buy it before I get a chance to evaluate it.

I've thought about a red spinel but wondered if the white metal rim might make it look a little wierd? Plus I've already a couple other red spinels so it can be part of my jewellery set. Will a round spinel in a ring clash with my other cushion spinel earrings and pendant?
This is a round-about way of buying jewellery. I know people usually pick the gemstone, then the setting, but I couldn't pass up on this unusual setting, so here I am wondering what to put in it.