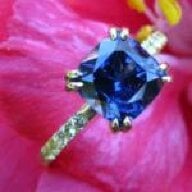 Joined

Sep 3, 2009
Messages

7,768
We need a new roof. Our house is 24 yrs old, not the best built in the world, and we've had some monster storms over the 7 yrs we've been here -- 2 wks ago one with big, bad hail. It's the original roof up there. So DH looks like a deer in the headlights when I tell him the roofer says it's a goner. He HATES to spend money where it doesn't show -- as in, anything other than decor. We go through this process every time we need to do something major. Aaarrrgh!
He goes nuts when I get the chimney cleaned. Crabs when the termite/bug guy comes to check the crawl space -- in the South termites can be a problem. At this age, everything in the house is reaching its dotage: this year we put in a new well pump and a new HVAC unit, sigh. If I mention concern about moisture in the basement & mold in this humidity, I'm a worry-wart.
Until he accepts the inevitable, it's my fault for wildly spending money on things "nobody notices." As if I'll get such a thrill out of a new roof, I couldn't resist the temptation! I think it would be okay with him if the house crumbled around him, as long as the wallpaper is nice & the upholstery elegant. After 33 years I should be used to it but I don't know whether to laugh or commit murder -- do you think a jury w/women on it would convict???
What things do your "roomies" go postal about spending money on?