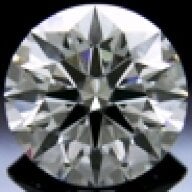 Joined

Jan 24, 2007
Messages

530
Hey to all and Thanks for all the information that you give.....you make a pragmatic person happy......LOL
Please examine this Hearts and arrows image and tell me what you think. The vendor says that it has great light return. I dont disagree with that, but what else could it mean. And they are sending me the stats on the stone. The image is from a PS vendor.
Critique it and be critical or praise it.....either way!!!
UPDATED 2-22-02
- The STATS of the stone.
The stone is more than just eye clean. On the table there are no inclusions whatsoever even under 20x magnification. The only thing that makes the diamond an VS2 is a feather located right off the table but no where near the girdle. In regards to it being an AGS Ideal which is usually called an AGS 000, it definitely falls under that category. This stone would be ideal under any certificate, in this case being GIA, it is called a GIA XXX; meaning, excellent cut, excellent polish, and excellent symmetry. This is also optically excellent symmetry making it a true hearts and arrows diamond. You will be please with the HCA score once you run it as well. Here are the specs:
Carat weight: .75ct
Color: G
Clarity: VS2
Cut Grade: Excellent
Polish: Excellent
Symetry: Excellent
Fluorescence: None
Depth: 60.6%
Table: 55%
Crown Angle: 34.0
Pavilion Angle: 41.0
No Culet
Girdle Thin to Medium
Thanks for looking
MWG