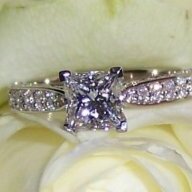 Joined

Jan 15, 2007
Messages

144
Hi everyone! I would love some advice on a setting I found at
Blue Nile
. My fiance and I are getting ready to purchase an engagement ring and in doing research I stumbled on a setting that I am just in love with. I really had not been planning on purchasing online, I was excited for that whole feeling of trying on rings at a jewelry store but I just keep comparing everything else to this one. We have checked out a few stores in person and I can''t find any that compare, I have tried to describe it to see if they have anything similar so I can get a better idea of what it looks like in person but they never seem to know what I mean, or else they just don''t have anything like it. So, I am just wondering what you all think of this setting, my main concerns are purchasing it online when I have never seen it in person and I am worried how a wedding band will fit with it. I would love everyone''s advice and if anyone knows of other settings like this one out there, or especially other pictures (especially on someones hand) that exist to give me a better idea of what it looks like I would love it!
Here is the link:
http://www.bluenile.com/product_details.asp?oid=6219&page=1&show_all_pages=1&col=3&row=19&pos=57&set_shape=PR
Hope this link works. By the way, in case it matters I would be getting a princess diamond. Thanks so much for your input!