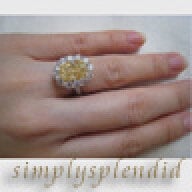 Joined

Nov 19, 2006
Messages

1,772
Hi,

The jeweler from which I saw the first asscher found another baby asscher for me with the following specs:

Measurements: 4.71 X 4.60 X 3.23
Weight: 0.59carat
DVVS2
Depth: 70.2%
Table: 63%
Girdle:Slightly Thick to Very Thick
Culet: None
Polish: Very Good
Symmetry: Very Good
Characteristics: Pinpoint, Indented Natural
Fluorescence: Faint

Again I have no pics as this was in a jewelry shop. However, I took along my new aset scope and found a lot of red regions as well as green regions and a little white regions (I hope I have used it correctly). The concentric squares look quite good too, with distinct windmills. The jeweler quoted me approx USD2250.

What do you think? Is there any cause for concern on this stone? Is this quote too high? Any advice will be most appreciated.

Thanks!