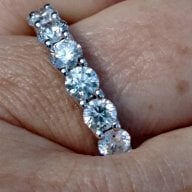 Joined

Dec 17, 2008
Messages

26,623
What if you are looking for a piece of jewelry and you find something close to what you want but not exactly. The kicker is that the piece you found is about 1/3 of the cost of the one you really want.

A like in that
- stones are the same (color/cut/size/clarity)

Things not a like
- were hoping for platinum but less expensive one you found is in white gold
- setting is not quite what you were looking for (shared prong vs channel)
- price of one found is about 1/3 of price of the one that you would order with everything you want

Would you go for the lower price one, declare it close enough and applaude yourself for getting such a good deal, OR
pay full price and get the one that is exactly what you want?