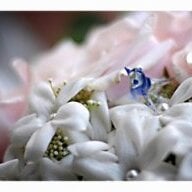 Joined

Oct 12, 2006
Messages

527
Ok.. so you ladies always offer such great advice.. and I am in need of some!
If many of you remember my situation with my biological father... (posts can be seen here:
https://www.pricescope.com/community/threads/father-issues.55084/
)
Well... quick recap from the last couple months... I talked to my father and informed him that my stepdad would be walking me down the aisle and that my stepdad and mom were listed as hosts on the invitation (I refused the money that he had offered)...I did however tell him that we would be recognizing and honoring him during the wedding and during the reception (namely with a father daughter dance, that I asked him to choose the song to) Since that email over 5 weeks ago.. I havent heard a single word from him.
Invitations went out 5 weeks ago.. and our RSVP date was Monday...
So here is the major update: NOT A SINGLE WORD from my father.. no RSVP card... not a phone call.
I have NO idea if my father is coming to our wedding.. I have no idea if my grandparents, my uncle and his family or my father''s step kids are coming... NO IDEA...
I know that my Aunt (his sister) sent in her RSVP card... and thats it...
So.. now what do I do? My FI said I should email him and say "Are you really not coming to my wedding?" and leave it at that... but in the same breath he also said I should write everything I am feeling out for him to read.. EVERYTHING... which I see as a great exercise for releasing a lot of things I feel right now.. but honestly.. I dont have the time or energy 4 weeks out from the wedding to do that.
I just talked to my mom.. and we thought maybe I could email him and say "Is Aunt S. the only one from this family attending my wedding" This kind of nudges him to answer about the other 12 people on that side of the family that are invited, as well as himself.
My mom offered to call.. but I dont want her to.. as I know it will only reinforce their (my father and his family) belief that it was my mom that influenced me not to "include" my father in this wedding... Which I can proudly say... is the absolute furthest thing from the truth EVER.. .my mom had no say or input in the decision that was made by me in my father not walking me down the aisle.
So what do I do? Help... I have to have a count to my caterer in less than a week! STRESS!!! Help!
Thanks in advance ladies. You have all been life savers over the last several months!