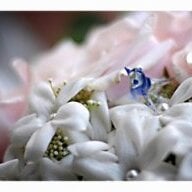 Joined

Oct 12, 2006
Messages

527
It seems like the last week or so.. I''ve had so many "issues"... sorry I havent had much happiness to report lately.. hopefully that will change soon...
My father (my parents are divorced, my mom and stepdad are paying for half the wedding) called me tonight asking me where I wanted him to send a check to help with the wedding...
A little background.. In August, I had asked him if he wanted or would be able to contribute.. and after me chasing him down to get an answer (this is the pattern with him.. I have always had to chase after him to be my father.. he has NEVER ever willingly done anything remotely father-like in my life) He told me that he could only afford X amount... Well, not that I am ungrateful.. but it wasnt even 1/20th of our budget... He explained that it was all he could afford and "scrape" together... This was one month after he came to visit me in Turks and Caicos (mind you.. he has never ONCE offered to visit me before... only now because I live in the caribbean)...
So.. I have over the last couple months come to the conclusion that I cannot physically and mentally handle having to chase after him anymore... I dont have time for it.. and my heart cant take the pain anymore... He called tonight to see where to send the check.. and I told him... I dont think we''ll be needing it... that we are trying to manage the costs.. but I asked that he hold on to it.. just in case unforseen costs come up... which he agreed to.... To be honest.. I had made the decision to have my Step Dad walk me down the aisle.. and I didnt want to take money from my father because I didnt want that sense of obligation in including him in specific things... mainly.. in my opinion.. he doesnt deserve to walk me down the aisle... My stepdad was more of a father to me.. than my biological father ever dreamed of... if he EVER dreamed of it in the first place.
Now.. heres the kicker... he told me that he bought ANOTHER house just before Thanksgiving...

Hmmmm... excuse me??? You could only scrape together X amount of money for your ONLY daughters wedding... yet you have many many times that to buy a house that you DONT need... they are gonna use it as a rental house.. they love their house.. wont have plans to move into this other one...
I''m sorry.. am I wrong to think that this is MESSED up??? am I being selfish? I honestly cannot wrap my brain around this...
Grrrrrr...