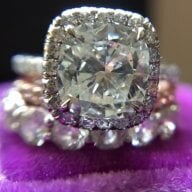 Joined

Apr 25, 2013
Messages

592
This is a thread purely based on my curiosity. I am hoping lots of people will reply with their opinions as I am really interested in others thoughts.

Recently a well known jeweler used on PS posted on instagram a photo of a ring that was an almost exact copy of another designers work. A flurry of messages and thoughts from various posters (pricescopers and others) ensued on the photo and there was a lot of conversation about potentially sending out a cease and desist to the jeweler who made the copy.

Here is what I am wondering: One of the most popular settings out there is a "Harry Winston style halo". Every single jeweler and designer has a version but they are essentially copies of a quintessential HW piece. Same with "Tiffany style solitaire" or "Tiffany soleste style double halo" or even the Tiffany Diamond by the yard necklace. These are of course just a few examples , but you don't really hear people saying " oh it's so wrong to copy you should get the original if that's the design you want".

However, when it's less well known jewelers getting copied (even if the original is $$$) it seems that people get a lot more worked up. For example, a single stone setting is extremely expensive but very high quality. They have designs that are specific to them. If you had a bench jeweler create a "single stone inspired" setting that looks very close to the original (but isn't the same quality), do you think that's wrong? Or is it ok because the original is way out of your budget? When, or is it ever, ok to copy a design that is known to be by a different jeweler?

I have no problem saying I am guilty of this. I have gone on pinterest or on PS and found pieces I liked and sent them to my jeweler and said " this is what I want! Make this please!". I have actively seeked out pieces that are copies of Van Cleef or Tiffany in style. However, I have never asked my jeweler to make a copy of a specific independent designers piece, especially if I could afford the original, but I would not have thought it would be different from asking for him to copy a Tiffany design. Now i am starting to think very differently, at least with some more independent designers.

What are y'alls thoughts ?