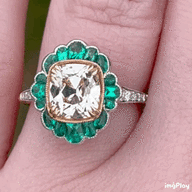 Joined

Jan 29, 2012
Messages

4,758
My camera just doesn't do justice to the neon pink and red colors. There's a warmth that the camera doesn't pick up unless I modify the entire image.

I had a scare today when I dropped my sphene sunflower ring that went plink plink plinking across the floor before it came to a stop. Thank goodness the sphene was not damaged.
I love your pink and green ring. The green just sparkles in that pic.