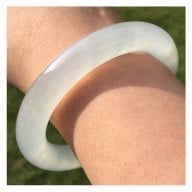 Joined

May 1, 2009
Messages

6,059
Love this combo - is the rose another ring? gorgeous
Thanks! It's actually 2 different rings as you can see from the pics below. Just realized that they can stack together recently.
Here I thought I had your whole pearl collection memorized. I was wrong.
Erm… admittedly I don't post all my blings on PS! So you still probably know my pearl collection erm, better than me? Once in a while I actually dig out stuff that I'm like - oh I forgot I actually have that.
THOSE CLUSTER EARRINGS. Please share a hundred more photos. What do the backs look like? Are they comfy? How wide are they, ish? They do look like little soap bubbles all collecting on a wand, ready to fly away

And the ring!!! I don't believe I've seen this before - obviously I need to stalk your threads more thoroughly

So the small diamond end is swappable? How does that work? I love it with the rose, I have to say
The earrings are surprisingly comfy to wear, and not droopy. Not sure the physics of it and wonder if having a wide enough surface against the ear helps cos the backings are the usual tiny ones. The earrings are approx 1.5cm across.
The ring is a pretty old one. The diamond end is fixed. It just happens that the diamond part manage to slide under the rose.
Ok anyways a few more pics of the earrings and ring!