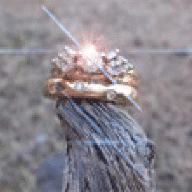 Joined

Mar 2, 2010
Messages

1,229
Hey All,
Pics first, story next: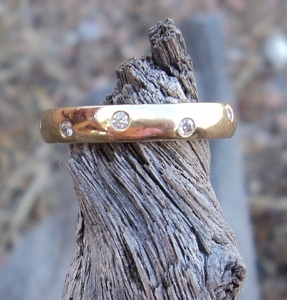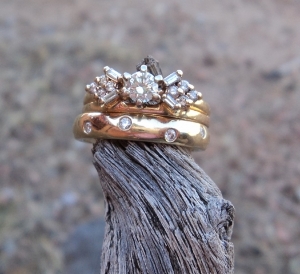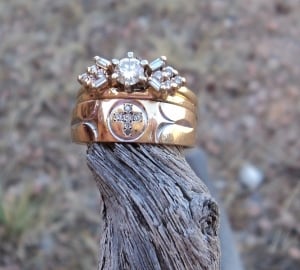 I ordered this band several weeks ago, and have had it for a while now but only just am getting pics taken.
First up, thank you Pricescopers! You have been a great help in educating me in diamonds and quality jewelry. Part of me wishes I'd never heard of PS because then the ring budget would be much smaller...and I'd be happy with the mall jewelry stores...sigh...
Second - Thank you to Bob with
Whiteflash
! I originally contacted
WF
in March of 2010 about a three stone ring. Bob and I have been emailing back and forth for over a year before I ordered my band. Bob has been extremely patient with my incessant questions. Thank you so much Bob! You have been GREAT!!!
Here's the story. Hubby and I got married on 8/8/98. I love my set, and have worn it just about 24/7 for 12+ years, save the times when my fingers swelled from pregnancy. I looked at my wedding band several months ago and realized that the constant rubbing of my e-ring (which is a 1/3 solitaire w/roughly 1/2 ctw wrap) had worn away the top part of my band.
This is not good! My Wedding band is very thin (bent at the bottom), so I have switched it to my right hand to prevent anymore rubbing of the top of the ring. No, I won't flip it upside down, that would drive me batty!
I saw the scattered band back in March of '10. I loved the sleek and simplistic look of this band. I did not like the idea of making such a large purchase online. I went to Tiffany's and saw their band, but it was thin and expensive! I have long fingers, and their band was too thin for my liking. My original Wband is 7mm and tapers to 4mm, my ering is about 4mm. I also wanted something that would go with my yellow gold ering.
I went to a local store to see if they had anything. They did, however because of hit or miss customer service I decided to go with
Whiteflash
. I contacted Bob (again) and finally ordered my ring. It came in a pretty little box (and lots of FedEx packaging). Bob was wonderful. It was his stellar customer service that sealed the deal for me!
Ok...so I don't know how to add the other pictures!!! I have tried but am only getting the same pic (the last one from above)...anyone know how to fix that?
Edit: Ok, so I tried again (have tried about 7 times) to upload the other pictures and they aren't working. Not sure what I'm doing wrong.