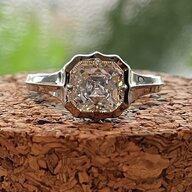 Joined

Mar 2, 2013
Messages

5,866
I posted in recent months in Rocky Talky as I debated whether to upgrade, the ability to discern between certain performance & cut characteristics, considering a different vendor's diamond, and considering a temp setting while I debate & decide on an eventual 3-stone setting.
About a year and a half ago, I took the leap into "ideal cut land", and bought
this Expert Selection diamond from Whiteflash
. I loved everything about that diamond and how it performed. I really never imagined I'd want to go any bigger or part with that diamond because I felt it was such a great buy for how well it performed, was the perfect everyday size for my size 7 finger. And finding one like that which was vetted for & confirmed to have excellent performance without the branding price bump can be a needle-in-a-haystack. My thought was: if I ever upgraded, it'd have to be a 'perfect storm' of circumstances that not only delivered on my expectations performance-wise but also what it'd cost to upgrade.
The ES was eligible for Whiteflash's generous upgrade program, and after I'd considered another potential candidate but decided not to proceed with that option, I recalled that another PSer had listed his WF credit for sale some time back. When I ran the numbers to see what that would equate to budget-wise for an upgrade (when coupled with my full ES trade-up credit), I looked at WF's inventory to see what they had available, not really expecting to find anything that would tick all my boxes, given I prefer something in the J/K range. Enter
this WF ACA diamond
. After confirming some performance questions w/WF about the diamond, I reached out to the PSer to confirm the credit was still available (it was), confirmed the transfer terms with WF so I was clear on any conditions, and completed the purchase of the transfer credit. Michelle, Vera & Bryan were amazing and helpful, answering my many detailed questions fully and transparently so that I was clear before proceeding. And I have to really applaud WF for their willingness to go into unchartered territory to allow the transfer of the other person's credit, as this likely created an accounting nightmare on their end that was not without obvious risk to all involved, but especially WF. Nevertheless, they never wavered on their commitment to customer service, and went well above & beyond to ensure both of their customers were happy in the end, and I cannot thank them enough for that!
I had the ACA sent to me before committing to the purchase so I could see it with my own eyes, in my own environment, in comparison to the ES. And it absolutely delivered above & beyond my expectations. I'm thrilled to now call the ACA mine. Eventually, it'll likely be reset into a three stone, but I wanted to take my time adjusting to the size jump and deciding on setting options. So it's currently set in
this Stuller soli setting
(14K X1 WG) which really showcases it from every angle, and actually makes the diamond look even bigger than I expected having seen it loose & in a spring-ring.
For peeps who don't like clicking links, the ACA specs are:

Video of the diamond in it's temp setting outdoors:
Whiteflash's pictures: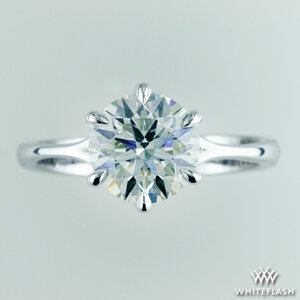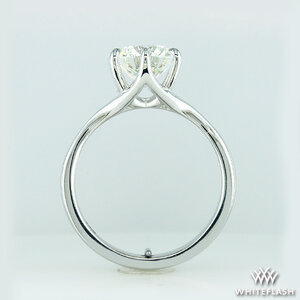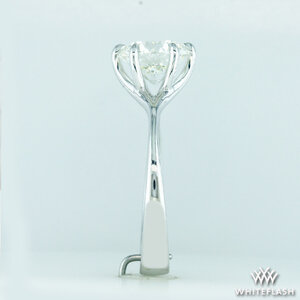 My pictures: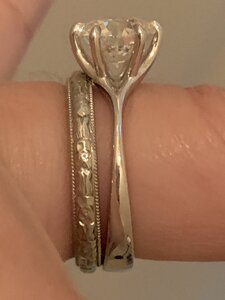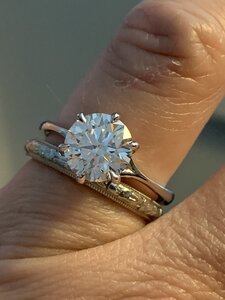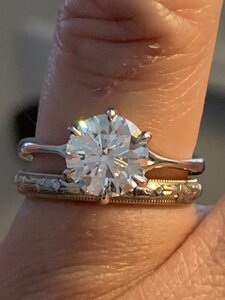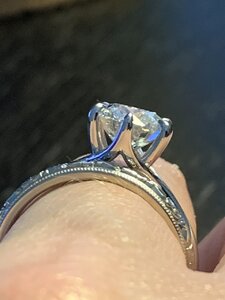 Last edited: