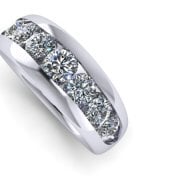 Joined

Dec 28, 2005
Messages

4,097
Kimberly, so sorry to see in addition to your loss, you are sick too. You've had all the bad, now things will be good again.
Lorelei, so sorry to see you don't feel too good either. Dipping FRENCH FRIES IN MAYO........


My My My.........Mustn't do that too often you know.........LOL You must do an extra 60 minutes on the elliptical as pennance!!!!
OK.......didn't check in yesterday at all. It was a crazy day. We wound up not making it to the gym as we decided to have both our Mercedes Teflon coated and that took the better part of the day and we had to jocky both cars to the dealership to get this done. But, we are so pleased to have had them both done and since the Teflon coating is supposed to keep the finish showroom new for a long long time, we are pleased to have protected the inside and outside of both cars.
Then last night we had our dinner with our frineds at the restaurant owned by the developer of our (hopefully) new condo. Oh My God........this is truly 5 star in quality and price, but the food was just so exceptional. I had a rock shrimp and goat cheese salad as my appetizer, then I had what they called "Deconstructed Ginger Butter Infused Maine Lobster (Mara


) It was just phenominal. And they went out of their way to ensure we were enjoying our evening since we are almost "Family" if we ever finalize the negotiation on the condo. The developer (the dad) even managed to be there to stop by and offer his welcome to us. It was a lovely evening to be sure. The only thing I did bad food wise was to have a peice of Key Lime Pie, which was the chefs specialty desert and let me tell you, after living in Key Lime Pie country (Florida) for the last 12 years, it was absolutely superb (as well it should be for $9.00/slice). So, I had to do extra pennance myself at the gym today.
Today, we officialy joined the gym we've been working out at for the last month. It felt good to feel permanent at a good gym again. To make up for the Key Lime Pie, I worked out for over 3 hours and pushed harder on the elliptical. I traveled over 9 miles in 45 minutes and burned more than 740 Calories. I was just burning up the elliptical and it felt great.
Tommorow is Monday and we usually don't work out. Since our realtor has a meeting with the developer tomorrow morning to get the counter, we're meeting him for dinner tomorrow night, likely for Sushi. Yummmm.
We also managed to make it to the last day of Talbot's Men's 1/2 Yearly Sale where many items were 70% off. I bought a new coat for $79 which was originally $350. What a deal. I also got a couple new sweaters for $29, which were originally $95.
All in all, it was a great weekend. Again, Kimberly and Lorelei, please feel better real soon!