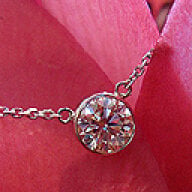 Joined

Oct 30, 2002
Messages

31,003
nejarb...when i started all of this in may of this year, i was 150 and holding...even with working out about 2x a week at 45 min of cardio and walking about 2x a week just out in the park and eating more healthy than i used to, i couldn''t seem to make the scale budge at all. i ratcheted it up to 4-5x a week and started eating even healthier than i was before. that is when i saw the changes happen for me. now i''m 140 and holding (140-141 depending on the day and when i am bloated to 143 but it always goes back down) and my body fat last time i had them measure (a month or so ago) was about 21.5-22. the trainer said that 18-21 for women is ''lean'' and 22-27 is ''average''. so i''m right on the cusp of lean. i may even be there now since a month has gone by. i can''t seem to steadily get under 140 right now...i''ve been holding there for a month now. but i don''t look 140 since i have a bunch of muscle..my body likes to look leaner but wear a bunch of muscle, i''ve done that since high school when i weighed more than everyone else but i was really lean looking (i ran track). right now, i wear a size 6 and i''m 5''7" with medium build but with broad shoulders. when i started i wore about a size 10 in pants. so i lost a bunch of INCHES and built a bunch of muscle, but only lost about 10 lbs on the scale. the whole thing is kind of interesting, i don''t know how best to calculate out what you want to lose in fat and gain in muscle but i can just say eat right and work out like a fiend and it''ll happen. hahaha. and make sure to eat a sustainable diet. because otherwise you''ll slip back and feel deprived so it''s best to just incorporate your favorite bad foods in every once in a while so you feel okay.

and planning ahead for me is what saves me during the week. i go to trader joes on a sunday afternoon and stock up for the week. i get healthy snacks like prepackaged fruits or roasted plantain chips for work and then get us fresh healthy pizzas for dinners, salads for lunch, pre-packed rosemary chicken and rice, etc. that way i know we are ready for the week and the times that i don''t have a snack or good type of food around is minimized.

so anyway, i was going to hit up the gym today but i don''t know...when i woke up my BUTT was hurting soooo badly from the walk yesterday..which is really funny because i walk up to a 14 incline now for 30-40 minutes and i don''t get sore after! but greg pointed out that the path we walked yesterday for the race was kind of up and down and the streets weren''t flat also, they were sometimes at a weird twisted incline where one foot was higher than the other, so chances are some muscles got worked out that don''t get worked out on the treadmill. but OW. oh and we went for a 1m walk with portia last nite when we got home from dinner. so it was after that when my muscles started to hurt, they were probably like OKAY enough with the walking, crazy girl. so we were actually both going to go to my gym but we may just relax today and go tomorrow instead. i may do a home cardio workout because i know i can bounce and do kbox on my legs and butt with no pain, but doing more power walking on an incline right now would really make my poor muscles SCREAM.



in terms of food, i don''t even want to count. hahaha. dinner yesterday i didn''t actually eat that much because i wasn''t starving and also i wanted to save room since we had THREE desserts that i wanted to try. so i had a small slice of blueberry pie, pumpkin pie and this mocha cake my mom brought. all were divine but man that blueberry pie i got was just soo good. so then about 5 hours later i had a small dinner plate of just a touch of cranberry sauce, mashed potatoes, stuffing and turkey, and then greg and i shared a pumpkin and blueberry slice. hahaha. so i''m already overdosing on thanksgiving goodness. this morning i was craving some routine so i ate my regular fiber cereal and coffee but then greg had fruit loops out so i had a small bowl (there is so much sugar in there i always feel lightheaded after eating!).

so hope everyone else is doing okay, tybee how do you feel after your long run? anyone else eating themselves silly? i am really bummed i can''t get to the gym today but i figure i shouldn''t push my body too hard. doing the home workout thing should be fine and then we can take a 1m walk later too. then tomorrow i can ratchet it up at the gym with hopefully no pain!!

happy friday all.