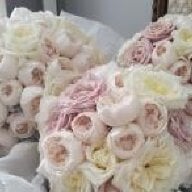 Joined

Jun 7, 2016
Messages

188
I haven't been able to find too many fancy cut eternity bands, or wedding bands in general. The one I saw, I went to see again yesterday and felt it lacked lustre. It was an emerald cut, but it looks very dull in sparkle. I know from reading step cuts give off large lines of sparkle, but this one seemed hazy, maybe even dirty looking?
I didn't get the details of it, I guess I should've, but is this common for step cuts? I found when pairing it with my ER, it almost looked dead. I always loved round eternity bands, and still do, but I guess I wanted something a little more uncommon. Because I'm unable to see too many fancies at this time, I don't know if it rule them out. I've seen a stunning asscher on here, but I've yet to see one in person, I feel the squareness would compliment my ER setting as it is a little more sharpe in aesthetic.
Lastly, I've noticed, even if I were to go with a round eternity, the diamonds would be much smaller than I imagined. This was a 9 stone at a half carat, which is .05 each if my math is correct. I'd make it a full eternity, but I'm a little surprised that I found anything much larger to be overwhelming to my ER.
Let me know your thoughts on the fancy cuts, and also, did any of you encounter a vision, and when it came time, realized your vision may not work. I feel a bit let down, I don't know why, not let down in my ER, but just with the possibilities of what I'd pair it with.
Note - I did not push the rings too close together as I didn't want to scratch.