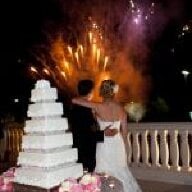 Joined

Jan 8, 2009
Messages

690
Hello Everyone-
I need to advice/opinion. My FF and I designed an engagement ring. Its a 2ct cushion with a 3 side pave band with a cathedral setting. Its absolutely beautiful, and I love that you can see diamonds from every angle.
My only concern is what to do with the wedding band. If I get a three sided wedding band to match, will the one side of the wedding band and the one side of the e-ring rub together and cause damage/loosing? I dont want to not get the three sided band, because then it kind of hides/ruins the one side of visible diamonds on the e-ring.
Someone had brought up having a wedding band with two sides of diamonds. Meaning the "empty" side, not next to the e-ring, and the top. Has anyone seen something like that? Will the plain metal be better against the pave on the e-ring? Or am I better of getting a spacer? Does anyone have one and do they like it/does it work?
Sorry to ramble. Thank you for your help!