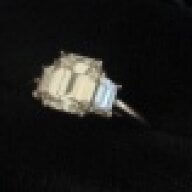 Joined

May 15, 2005
Messages

2,360
Okay, let me just say that my husband-to-be and I made the fatal mistake of buying our wedding bands this past weekend at Tiffany...I have the really thin plain platinum knife-edge and he has the Lucida. We NEVER thought we would want to wear them early
However, I put the band on...and I refuse (okay, strongly hate) to take it off...and HE loves his on his left hand (on his right hand he wears his UPenn class ring)...
So we thought about just wearing them anyway, despite not having set a wedding date or anything...

We have been together for 6 years (just marked our ann.) and have been engaged for over a year and have NO date set in the near future (we are looking at two years down the road from May, after finishing grad school and saving a year for a house)....
MY QUESTION IS: IS IT AWFULLY BAD TO WEAR IT EARLY?!
I must admit, I am hoping for some positive responses, otherwise I will cry as we pry the rings off each other....