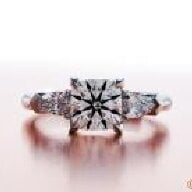 Joined

Apr 4, 2010
Messages

9,667
My previous understanding was that wearing 2 rings together was only problematic if one of the rings had exposed diamond girdles that could scratch the other ring. However, after reading this thread
[URL='https://www.pricescope.com/community/threads/advice-sought-on-a-mark-morrell-setting.165184/']https://www.pricescope.com/community/threads/advice-sought-on-a-mark-morrell-setting.165184/
[/URL]
it seems that there may be a problem with wearing 2 rings together if the ring rubs on the prongs?
My questions are
1) is it OK to wear two platinum rings together if one will rub against the prongs (or two of any other metal, provided that they are the same?)
and (of course)
2) can I wear a straight wedding band with my engagement ring or do I need a spacer band so that the wedding band will not rub against the prongs? if I should get a spacer, is getting one in gold OK or does it need to be plat?