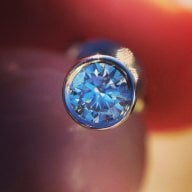 Joined

Jul 7, 2004
Messages

10,835
So, you've likely seen on the news that St. Louis and surrounding suburbs (Valley Park, Fenton, South County, South City, Arnold, Eureka, Union, Ste. Genevieve/Cape Girardeau, West Alton--a confluence point, Kimmswick, St. Charles/St. Peters, I can go on for a while) are basically under up to 50 feet of water. That's no exaggeration. This is worse than 1982. This is worse than 1993. We have almost all of our interstates closed in at least one location, if not multiple locations. Two counties are basically shut off from the rest of the area and those two counties make up a big portion of our city. First responders worked tirelessly through the day and night yesterday to try to keep the last remaining path into one county open for the MILES of traffic backed up trying desperately to get to their homes last night, it was down to ONE lane in, and they were going one car at a time, before they couldn't do it anymore.

Just about a mile from my home is obliterated, I am safe. My sister is trapped in her subdivision, surrounded by water. She is safe. My parents are safe, away from water entirely. Many family members of mine are safe, however I did have a couple that were evacuated due to proximity and don't know for sure what they're going back to. Others are trapped and cut off. My brother in law sat for 4 hours last night on 55 just to try to get to my parents who aren't even near the closure because all the routes to get to their house were backed up for miles (he nearly bailed and came to my house, I am closer!)

This is just a tiny snippet of MAJOR roads closed.
Interstate 70 has been closed (I believe it's reopened, may be closed in spots)
Interstate 44 is closed for many miles in many places
Interstate 55 is closed
Hwy 141 is closed
Hwy 21 is closed
Hwy 61/67 is closed
Hwy 50 is closed
Hwy 100 is closed
Hwy 109 is closed
Hwy 30 is closed
Hwy 47 is closed

Two huge school complexes are underwater right now that I know of, at the very least (and one narrowly missed it in Valley Park, one building might have taken a hit, but it will likely be ok to reopen.)

People who were told they were ineligible for Flood Insurance because they were not in "floodplains" and were too high up to ever flood are literally under water right now, and are basically f'cked. They've lost everything.

I don't pray, I don't believe in religion or deities, but even I am unintelligible right now. This is worse than 1993. The locals will understand this part: All I can think is THANK THE GODS that Chesterfield and the Missouri River levee is holding--can you even imagine the Valley going under right now!?!! For the non locals--that means that Interstate 64 would be gone as well, as would TONS of development in a goddamn floodplain--that was all gone in 93.

I was over the Meramec on 44 before it was cut off at 270 (I had to go to St. Clare for a dr appt for the locals. They sent me off at the soccer park outer road, over Mraz and through Horan and I went back out thru the Horan Rd way to get back to the hwy...the water was like 6-8 feet if that from the highway at that point, and I bet it got higher by the end of the day.)

So keep them in your thoughts. All of these displaced people who have lost it all. It only takes a few days of heavy rain, or in some cases ONE day of heavy rain, a few hours.

Any just FYI--UPS, USPS and FedEx are not going anywhere. They can't get through here.