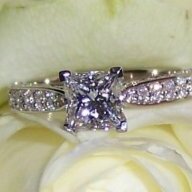 Joined

Jan 15, 2007
Messages

144
Hi everyone, after much searching we think we have selected our diamond for my engagement ring. I have done a lot of research but I still feel in the dark when it comes to depth/table proportions and cut for princess diamonds, which is what I am looking at.
We have picked the diamond from
Blue Nile
, as they have the setting that I have fallen in love with and want to get everything from one place. Please let me know if this diamond is up to par. Please, please let me know if there is something I should know about this diamond, particularly about the cut, that would cause you to hesitate before choosing this diamond. I would really appreciate help from all of you out there, I have been lurking on here and posting some small questions for a while now and I have learned that you all know so much more than I could ever hope to comprehend so I take your advice very seriously.
Here are the specs for the
Blue Nile
diamond:
1.27 Princess Diamond w/ GIA cert.
Cut: Very Good
Color: H
Clarity: VVS2
Measurements: 6.23 x 6.03 x 4.26
Depth: 70.6%
Table: 72%
Symmetry: Very Good
Polish: Excellent
Length/Width Ratio: 1.03
Girdle: Very Thin to Slightly Thick
Cutlet: None
Flourescence: None
I would really appreciate any thoughts you have on this diamond. Also, any estimates you could make on what you think the price should be would be great. I will list the price shortly but I would love to see what everyone thinks it should be worth.
Again, I can''t thank you enough in advance for your opinions on this. This ring is going to be one of the biggest purchases of our life and we cannot wait to make our decision, we just want to feel as sure as possible that we are choosing the diamond right for us.
Thank you!