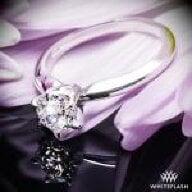 Joined

Jan 13, 2016
Messages

51
So after a lot of to-ig and fro-ing and deciding on color and price *yikes* this is the diamond I settled on for my engagement ring and now we have bought it! I say 'we' because when you have a child together already finances are essentially mixed! Just paid for it and it should ship next week.

The essentials:
Category Expert Selection (missed out on
ACA
only as Star is 47 and
ACA
is 48-55 but been told it is a mere technicality)
Shape Round
Carat 0.804
Color E
Clarity SI1 (have been promised it is super eye clean even from 6 inches)
Cut Ideal
Depth % 61.9
Table % 54.7
Crown Angle 34.7
Star 47.0
Pavilion Angle 40.7
Crown % 15.7
Lower Girdle % 76.0
Measurements 5.94x6.00x3.70
Culet Pointed
Fluorescence Negligible
Girdle Thin to Medium Faceted
http://www.whiteflash.com/loose-diamonds/round-cut-loose-diamond-3408378.htm#
Some images from the website. Still trying to decide whether to use setting I have at home or get a new one but budget is well and truly blown so might have to settle for current setting. Will provide actual photos when I have my diamond. SOOOO excited!!!

Huge thanks to everyone who has helped me with my many questions