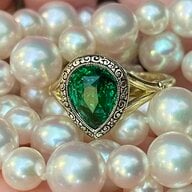 Joined

Mar 2, 2009
Messages

12,795
I've always loved watches, but have never taken the plunge into getting a nice mechanical watch.
Right now I'm thinking of either the Ball Transcendent with steel bracelet
http://www.ballwatchusa.com/collections/ConductorTranscendentPearlL2JPK.asp
Or a JS watch, 32 mm style 101. (can't decide between the Black or blue MOP face!)
http://www.jswatch.com/collection/101-32-mm
Things I like about the ball: I like the rectangular face and tank-esque look, the pink MOP kind of tickles me, and the gas microtubes that provide the glow in the dark markers are kind of cool. Cons: I worry it looks too "trendy", the microtubes are cool but do lend it a sort of lego/kiddy feel, lol.
Things I like about the JS: It's a very classic old school feel, I love that the company is so small and practically everything about the watch can be customized since they hand make all the watches at their shop. You can get your name engraved on the rotor. Also, Iceland holds a special place in my heart because I went there for my honeymoon and just love the country. Cons: I do prefer rectangular over round faces. I wonder if it'll be difficult to service the watch given the company is in Iceland. I won't be able to read the time in the dark, lol. I'm mildy concerned it will look too boring for a dress watch. I'd ideally want something versatile.
Both watches have respectable chronometers. And I think the prices are comparable.
Thoughts? Does anyone own either of these pieces?
Thanks!