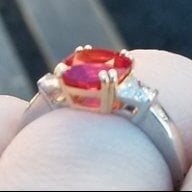 Joined

Nov 3, 2009
Messages

7,589
He has not returned my money - 1.1 K for a sapphire. The stone was advertised as blue with violet undertones VVS1, it was hopelessly dark-violet without any blue. I sent the stone back the day I received it, he kept silent, till I started emailing him, then he stated I owed him $ 50.00 for a certificate and custom costs, then I tried to find a merchant's certificate and could not, and said, OK, just reimburse me minus $ 50.00. SInce that time, he has not returned a single email. No money on Paypal either.

Yesterday evening I said, I gave him12 hours to respond to an email, then I shall post it on PS, and if he is not returning the email in 12 hours, I am going to open a claim with Chase band and Paypal. I sent copies of emails to myself, I sent an email via his website, I called them and they did not answer. I do not know what is going with this company, perhaps they are going out of business, or just a scammer, but please, do not buy from them till I clear my situation. He acknowledged receipt of the stone, and I have this email, which is good and allows me to open the case. I shall be posting here about the progress, but it is Wednesday, the business day, and yesterday when I sent my last email, it was a business day in Colombo, in full swing.

There is a sale on his website, please be careful! You know me, I usually do not complain here and try to resolve difficult situations directly with vendors. But this Wadood, I think he just wants to pocket my money.