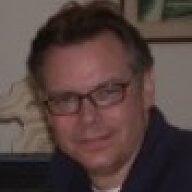 Joined

Sep 25, 2002
Messages

4,924
There's a system devised by the Scottish gemologist Alan Hodgkinson (with some help from US gemologist Dr Bill Hanneman) which turns the eye into a human refractometer, capable of even outperforming the refractometer in some areas.
I use this system daily on the front lines, reducing by probably 70% the amount of times I have to reach for my refractometer or spectroscope.
This is the Reader's Digest condensed version, but it will give you the general idea. For the in depth workbook, contact Alan at
[email protected]
His website can be viewed at www.scotgem.demon.co.uk.
A diagram of how it works appears below. This and the other diagrams are posted with the permission of Alan, whom I contacted at his home/gem teaching school in Scotland. He gives short practical courses in all aspects of gemology, with his favorite topic being frugal advanced gemology using no or inexpensive instruments.
Right up the alley of Guerilla Gemology… For you non-professionals / non-gemologists, forgive me if I lose you once or twice in this article. If you're a gem addict, I think you'll enjoy it nonetheless.