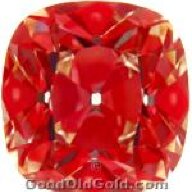 Joined

Aug 16, 2011
Messages

124
I wanted to find out from some of you more familiar with vinatge rings what you would consider a fair retail price for this ring/stone combo. Its one I am looking at but I think it may be priced a bit high. Its a platinum setting with an EGL cert K SI2 cushion cut stone
appx 1.3ct although it faces up pretty large at 6.85 x 6.40
From the pics the stone looks pretty good overall and Im assured its eyeclean. What Im concerned about is whether ot not the price should be negotiated down from where its at (seller is asking about $5700). Im not posting links to avoid any 'snatching'...
When I look at the current prices on this site for cushion cuts in the 1-1.49ct range prices avg at $1883 per carat ($2448 for 1.3cts)
and even when upping to J SI2 in a range from 1.5-1.99ct its still an avg of $2721 ($3537 for 1.3 cts).
What price should be a reasonable amount to expect to pay assuming I like the stone when seen in person? Does the spread size for the ct weight set off any flags? I know cushions will have a little larger spread, but does this seem in a good enough range where it wouldnt be too shallow?
Thanks!
Pics-